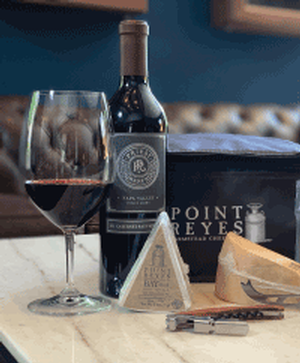 Red Wine Cheese Favorites
National Wine & Cheese Day is just around the corner, and we have just the kit for you! Each of these pairings was hand-selected by our Wine Specialists at the Priest Ranch tasting room. Point Reyes cheeses are family farmed and a local favorite, so we asked our team to take the guessing out of cheese and wine for you.
On July 24th at 4 pm PT, our Director of Winemaking Craig Becker will be joined by the owners of Point Reyes Cheese to discuss the wine and the cheese on Zoom. All orders will ship on Monday, July 20th, via 2-day Air.
2018 Cabernet Sauvignon with Gouda
2014 Coach Gun with Toma
2016 Double Barrel with Olive Oil Sel Gris Cracker and Honey (top with Toma for added flavor)
2010 Port with Original Blue or Bay Blue (depends on your Blue Cheese preference)
$250 includes wine + 2-day air shipping | $225 for members