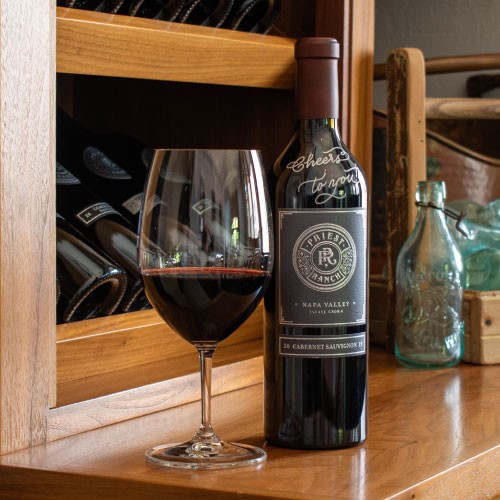 Etched Cabernet Sauvignon
"Cheers to you!"
This year, when gifting the Priest Ranch Cabernet Sauvignon, make it stand out with "Cheers to you!" hand-etched on the bottle by local calligrapher, Nina Sandelin.
This etched Cabernet Sauvignon gift includes:
one bottle of 2019 Cabernet Sauvignon with "Cheers to you!" engraved on the bottle
one-bottle black box
handwritten note
This Napa Valley Cabernet Sauvignon is a full-bodied wine with balanced acidity and tannins. The nose is full of chocolate, black cherries, cassis, and a touch of earth. The rounded mouthfeel is persistent in the long and lingering rich finish. The 2019 Priest Ranch Cabernet Sauvignon was aged in 40% new French oak and 60% once-used French oak barrels and the lees were stirred for the first year, followed by three racking in the second year of aging.
This unique gift is a one-of-a-kind bottle that will remain a keepsake long after being enjoyed!
Wine Specs
Varietal
Cabernet Sauvignon
Vineyard Designation
Somerston Estate