Weeknight Porchetta with Lemony Broccolini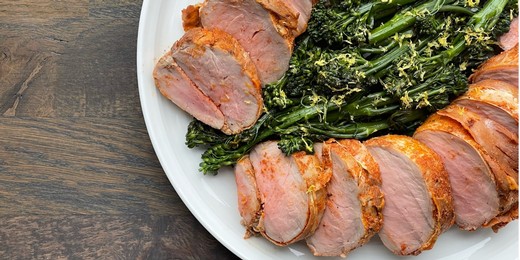 Recipe Date:
February 1, 2023
Measurements:
Imperial (US)
A porchetta is a fantastic meal for a crowd, often a project dish relegated to weekends only. Try this easy and quick version, requiring only one pan to make and one large dish to plate on, cutting down on time spent cleaning and making any Tuesday night dinner a breeze. Pair with a glass of the 2013 Merlot to ease you into the week! This dish is inspired by a recipe found in a Cooks Illustrated publication from several years ago.
Ingredients
2 tsps Smoked paprika
Salt
Pepper
1/2 tsp Minced fresh rosemary
1/2 tsp Minced fresh thyme
2 tsps Garlic powder
2 lbs Pork tenderloin, trimmed (two 1 lb pieces)
8 thin slices Prosciutto
2 tbsps Extra-virgin olive oil
1 lb Broccolini, trimmed and cut into 2-inch lengths
2 tsps Grated lemon zest
1 tbsp Lemon juice
Directions
Adjust the oven rack to the middle position and heat the oven to 375 degrees. Set the wire rack on a rimmed baking sheet. Combine the smoked paprika, 1 teaspoon salt, ½ teaspoon pepper, rosemary, and garlic powder in a bowl. Sprinkle pork with the spice mixture. Wrap each tenderloin with 4 slices of prosciutto.
Heat oil in a 12-inch nonstick skillet over medium-high heat until just smoking. Cook pork until browned on all sides, 5 to 7 minutes. Transfer the pork to the prepared wire rack. Roast until meat registers 135 degrees, 12 to 15 minutes. Tent pork with foil and let rest for 5 minutes.
Meanwhile, heat the fat left in the skillet over medium-high heat until just smoking. Add broccolini, ¼ cup water, ½ teaspoon salt, and ¼ teaspoon pepper; cover and cook until crisp-tender, 6 to 8 minutes. Off heat, stir in lemon zest and juice. Slice pork ½ inch thick and serve with broccolini.