Poached Cod in Tomato Curry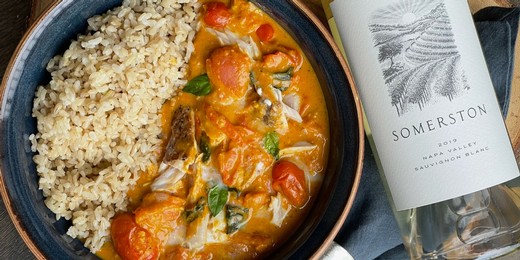 Recipe Date:
February 1, 2023
Measurements:
Imperial (US)
This warm and comforting recipe is perfect for the cool weather. It's delicious served traditionally over jasmine rice or cauliflower rice with na'an, or get creative! Eat it as a soup of as a sauce on top of gnocchi or other soft, pillowy pasta. We love to make the curry the day before to let the flavors marinate and bloom and poach the cod in the reheated sauce right before serving. To make this vegetarian, swap the cod with extra firm tofu and follow the same preparations. Try the 2019 Sauvignon Blanc or 2013 Merlot for a few excellent pairings for crowd-pleasing options! The brightness and texture of our 2019 Sauvignon Blanc highlights the richness of the curry, and the 2013 Merlot pairs so well with the tomatoes and spices. This recipe take inspiration from a recipe by Andy Baraghani, formerly of Bon Appetit.
Ingredients
3 tbsps Vegetable oil
1 1" piece fresh ginger, peeled, thinly sliced
2 Garlic cloves, thinly sliced
1 Red chile, halved, seeded, thinly sliced (optional)
4 Cardamon pods, crushed (*see alternative below)
1 tsp Ground coriander
1/2 tsp Ground tumeric
2 pints Cherry tomatoes (about 1 1/4 lbs)
1/4 cup Unsweetened coconut cream
Kosher salt
4 5-oz skinless cod fillets
1 cup Basil leaves, torn if large
Directions
Heat oil in a medium skillet over medium. Add ginger, garlic, and chile if using, and cook, stirring often, until the garlic has softened but not taken on any color, about 3 minutes. Add spices and cook, stirring, until fragrant, about 30 seconds.. Add tomatoes and cook, occasionally stirring, until most of the tomatoes have burst and released their liquid, 12–15 minutes. Stir in coconut cream; taste and season curry with salt.
Reduce heat to medium-low. Season cod with salt and nestle it into the curry. Cover and cook at a bare simmer until fish is opaque throughout and beginning to flake, 5–7 minutes (thicker pieces will take longer to cook).
Gently transfer cod to shallow bowls. Stir basil into tomato curry, then spoon over fish.
*If you can't find cardamom pods, 3 tsp of high-quality garam masala can replace the cardamom and coriander.